Creations that I make for smaller events, such as birthday parties, are more detailed. When I am doing line work balloons for large events, I give children a menu to choose from that has designs that are fast to keep the line moving. Be sure to check back occasionally for other creations I will be adding.

Click on photo for larger view.
I absolutely love making stuffed balloons as gifts, raffles and giveaways! It gives me the freedom to release my creative juices to create one-of-a-kind designs.
Here are some of the occasions for ordering one of these awesome gifts:
holiday, birthday (of all ages), baby shower & reveal*, job promotion & retirement, wedding, graduation, thank you, get well, congratulations and lots more!
*Planning a gender reveal party? Contact me about my original design that I promise you and your guests will absolutely love! Nothing like you have seen before.
Here are just a few photos for you to see some variations that are available.
Click on photo for larger view.
Please note:
Love the idea but not a fan of balloons or the popping? Latex allergy? Consider an alternative! We can replace the balloon with a box surrounded with clear sides to view the contents inside. These also make wonderful gifts! Check out the Balloon-Filled Box. This is also another choice if there will be a delay in gift giving. Thanks to Daisy J. Beltran of Funky Balloon Gifts who so graciously gave me permission to use photos of her beautiful creations
to show ideas using boxes instead of balloons.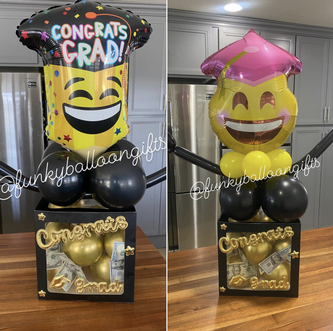 Having a child's birthday party? Here's a novel idea:
Order an 18" balloon stuffed with 5" balloons of various colors. When the
piñata is popped, small colorful balloons fly out to add excitement to the occasion. Balloons are empty. Toys, candy, party favors, etc (provided by the client) will be placed inside colorful shredded filler paper located in the bottom of the stuffed balloon for children to search through for the prizes.
You can hang it or have someone hold it and the birthday child gets the honor of popping it. Pick is provided for the popping experience. Confetti can be added for extra excitement for a nominal fee. Pick up or schedule to be delivered (delivery charge may apply).
Contact us to order your custom piñata today!